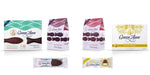 Before we say goodbye to 2021 (a challenging year for us all)  I'd like to take a moment to reflect on our 'wins'.  Over the past year we have launched some delicious new chocolate treats
Dark Chocolate Peppermint Fish  - what a perfect combo
Milk Chocolate Banoffee Bar – what's not to love about caramel & banana?
Our latest Chocolate Fish Selection 200g box has the additional flavours of Dark Chocolate Peppermint & Milk Chocolate Hokey Pokey, with the old favourites Dark Chocolate Raspberry & Milk Chocolate Strawberry
Chocolate Fish Bites -  because you told us that you loved the choccie fish but could we make some smaller…. & we did!
Milk Chocolate Ginger Cremes – we pulled out this original recipe as a Christmas special. My tasting notes say  ' tastes like ginger crunch slice'.
And now looking forward to 2022… what an exciting year for Queen Anne.  We are on the move to new home for Queen Anne.  Not only will our chocolate factory be bigger & better  (we have been growing so quickly that we have been 'bursting at the seams'),  but we will have space to showcase our Queen Anne history in our factory shop.  
For those of you who are Christchurch & Canterbury based,  keep an eye out for our updates  on the  Big Move - we will post an invite to visit us at our new home.
Happy New Year from the Queen Anne Team 
Regards,
Sarah