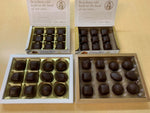 Reduce – Reuse – Recycle 
Here at Queen Anne we are committed to making our delicious chocolate treats & share responsibility for the environmental impact of the packaging that we use. 
With changes to the plastics which can be recycled in New Zealand, we are making changes too. We are changing all our plastic trays to PET#1 which is recyclable in New Zealand.  We are also reducing the thickness of our trays to reduce the amount of plastic used. 
The PET#1 plastic which we use for our trays is 90% recycled – the extra 10% needs to be new plastic for food safety (a layer of new plastic covers the recycled plastic)
We have changed all our seasonal (Christmas & Easter) plastic trays to recyclable PET#1  - look for them this Christmas 
Now we are changing our boxed chocolate trays to

recyclable

PET#1.  Previously they were gold coloured trays  - now we have printed the inside of the cardboard gift boxes gold instead.
Please join us on our Green Queen Journey.
Regards
Sarah & the Green Queen Team